Advanced Aesthetics:
Kevin Johnson, MD, FACS
608 Northwest Boulevard #301
Coeur d'Alene, ID 83814
Phone: (208) 676-8346
Monday–Friday 8 a.m.–6 p.m.

Liposuction With Smartlipo®
Liposuction With Smartlipo®
One of the cosmetic surgery procedures our practice is best known for is laser liposuction. We offer Smartlipo to our Spokane and Coeur d'Alene patients who want a less invasive yet highly effective alternative to traditional liposuction. Learn the answers to your questions about Smartlipo, and find out why both Dr. Kevin Johnson and our patients prefer it.
What Is Smartlipo?
Liposuction is an enhancement to traditional liposuction performed with a specialized suction tube, called a cannula, that includes a laser. Laser energy provides a number of advantages over traditional liposuction:
Liquifies targeted fat, making it easier to suction away.
Tightens tissues surrounding the fat for smoother results.
Minimizes bruising and swelling.
How Much Does Liposuction With Smartlipo Cost in Spokane and Coeur d'Alene?
The cost for liposuction with Smartlipo starts at $3,000 for the neck and jawline alone and $5,000 for larger body areas. Each additional body area results in decreasing prices per area. When you visit our office in Coeur d'Alene, we would be pleased to offer you a customized quote during a consultation. We strive to keep our rates competitive and affordable for all our patients. We also offer financing options to help you fit your desired treatment into your budget.
Candidates for Smartlipo
Attracting patients from Kennewick, Moses Lake, and Wenatchee, WA, as well as cities surrounding Spokane and Coeur d'Alene, Smartlipo can help reduce fat for almost any patient who wants to slim and shape specific areas. An examination by Dr. Johnson during the consultation will determine if this procedure is right for you. It is an ideal treatment to minimize localized pockets of unwanted fat, especially for areas that don't respond to exercise and diet. Smartlipo is meant for fine-tuning, not weight reduction.
What Areas Can Be Treated With Smartlipo?
Both men and women can benefit from Smartlipo. The main reasons patients come to Dr. Johnson for Smartlipo is because they want to reduce fat from one or more of these areas: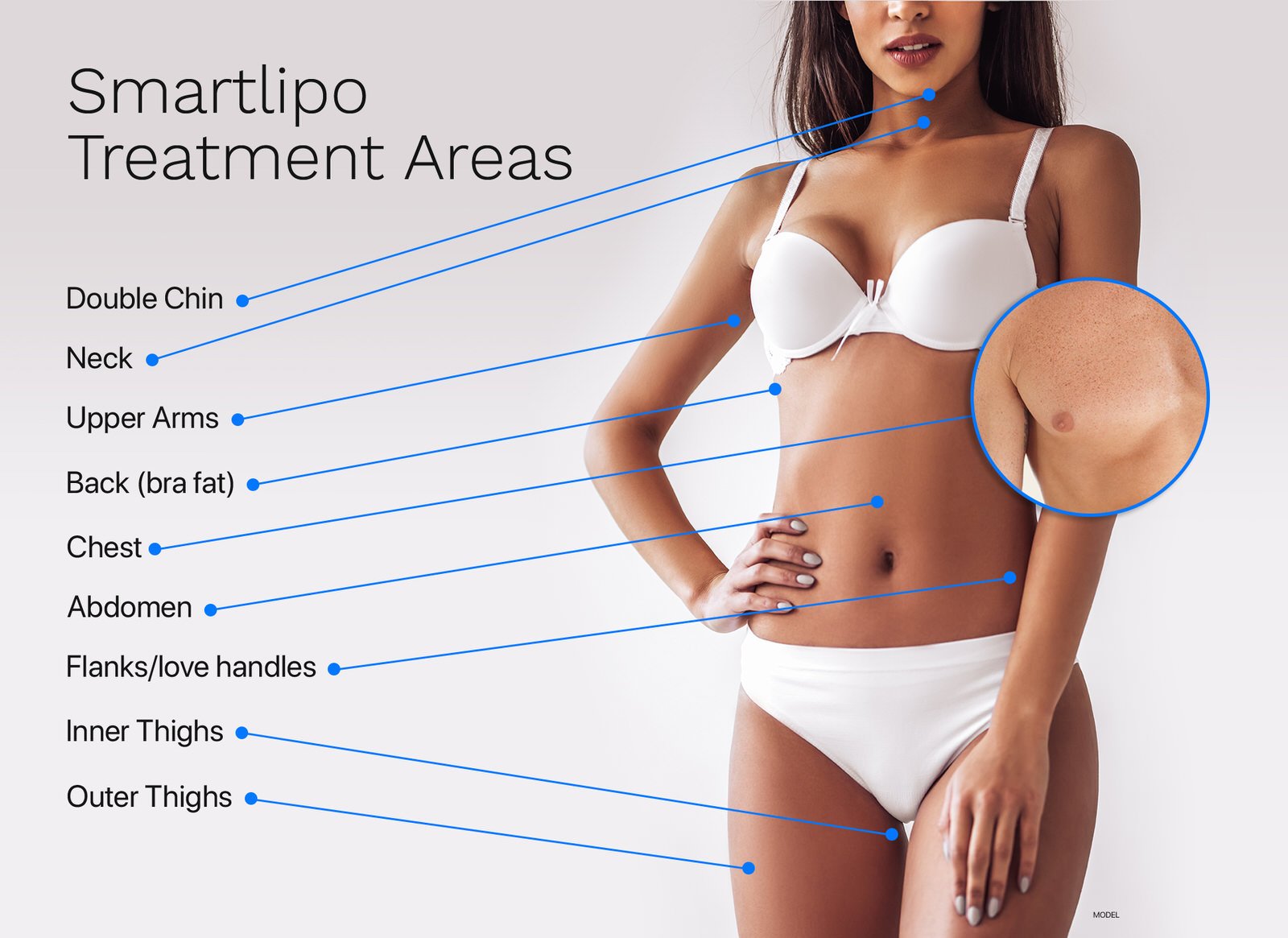 Dr. Johnson can treat more than one area during a single procedure. In most cases, patients need only a single treatment to get their desired results.
Can Smartlipo Be Combined With Other Procedures?
Fat harvested through Smartlipo can also be used to augment other areas of the body, such as the breasts and the buttocks. Dr. Johnson specializes in fat transfer for people who want natural enhancement of the body's contours.
Are the Results of Smartlipo Permanent?
By maintaining a healthy diet and exercising regularly, you can enjoy the results for years. Other liposuction techniques are more likely to produce uneven contours and dimpling, rippling, bumps, and other irregularities than Smartlipo. Patients typically attain a normal, smooth, and even contour from a Smartlipo procedure, although experiences vary.
Smartlipo is designed to produce long-term results because fat removed during the procedure is gone for good.
Nonsurgical Alternatives to Liposuction
If you're looking for a completely non-invasive body contouring method, be sure to learn more about CoolSculpting®. If you are interested in reducing neck fat, consider the benefits of neck liposuction vs. PrecisionTx®.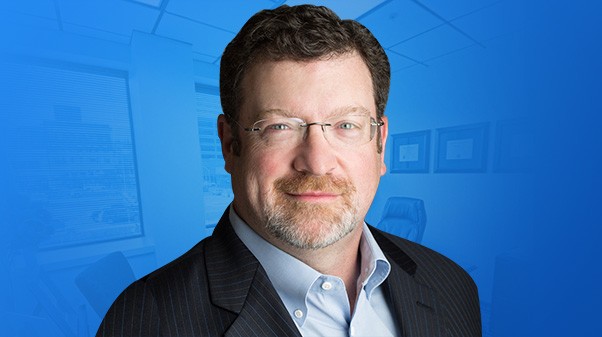 Dr. Kevin Johnson
Welcome to Advanced Aesthetics. Throughout my years serving the body contouring and facial rejuvenation needs of people in Spokane and Coeur d'Alene, I've learned a lot—including how to meet my patients where they are. If you're like most of our guests, you're busy, you want to address a specific concern, but you might not know where to begin. We're ready to help.
Meet Dr. Kevin Johnson
Why Dr. Johnson for Smartlipo
Women and men travel to our Coeur d'Alene location to have Dr. Johnson perform Smartlipo because of his reputation for getting excellent results and his superb safety record. Dr. Johnson is a board-certified general surgeon and a thought leader in the field of body sculpting. He teaches a CME-accredited laser liposuction training course for physicians spanning multiple specialty physicians, including: general surgeons, plastic surgeons, facial plastic surgeons, ENT surgeons, dermatologists, cosmetic surgeons, OB/GYN surgeons, emergency medicine physicians, and several more.
Dr. Johnson's Advanced Aesthetics is a National Training Center for the Cynosure® laser company, which manufactures and sells the Smartlipo® Triplex®, Cellulaze™, and PrecisionTx lasers.
Choosing a liposuction specialist with as much training and experience as Dr. Johnson is an important step for ensuring your excellent surgical results and safety. He describes some of his most rewarding cases on this page.
Is Smartlipo Better Than Traditional Liposuction?
By using laser energy, Smartlipo offers a variety of benefits over traditional liposuction, including:
Enhanced comfort because the laser energy liquefies the fat before it is removed
Versatility in treating a range of areas, including the face and neck
Tightening of the skin by stimulating collagen production
Minimal scarring because incisions are so small
A shorter recovery—as little as 24 hours
Local anesthesia
In a nutshell, Smartlipo offers excellent results, including tighter, smoother skin, with less discomfort, a shorter recovery time, and less bruising and swelling than other forms of liposuction1.
Is Smartlipo Better Than CoolSculpting?
Both Smartlipo and CoolSculpting are fat reduction procedures that provide lasting results as long as you don't gain weight. Each option has its strengths.
CoolSculpting is best when you can wait a few months to see your results and want:
General fat reduction instead of precise, dramatic contouring
An alternative to surgery
An option with no downtime
Smartlipo is best when you want:
Extensive contouring of large areas such as the belly, upper arms, and thighs
Precise fat reduction in sensitive areas like the face, neck, knees, and ankles
Noticeable changes in your contours
Smoother, firmer skin
Immediate results (once swelling dissipates)
When Can Liposuction Be Used Instead of a Tummy Tuck?
If your skin has been stretched by pregnancy or significant weight changes, you should consider the differences between Smartlipo and a tummy tuck.
Your Smartlipo Procedure
Treatments with Smartlipo are considered alternatives to traditional liposuction; however, Smartlipo is similar to tumescent liposuction since a tumescent solution is injected under the skin in the area to be treated. Once the treatment area has been infused with this solution, an optical fiber attached to a very small cannula (wand-like tube) is then inserted under the skin in the area to be treated.
The cannula is moved back and forth in a wand-like motion, causing fat cells in the treatment area to rupture and liquefy. Once liquefied, the fat is then easily suctioned away through the cannula. The laser also helps to cauterize blood vessels. This allows patients at Advanced Aesthetics to experience the full results of a liposuction treatment without as much bleeding, bruising, pain, or downtime as other methods. The laser also stimulates collagen production, helping to tighten the skin after treatment.
Your Smartlipo Recovery
Smartlipo provides impressively contoured, sculpted results, but it requires only minimal downtime. Because Smartlipo is less invasive and gentler than other types of liposuction, most patients return to work or resume other daily activities after only a day or 2, although experiences vary.
Right after your procedure, a pressure garment may be applied to help decrease swelling. There is also less bruising and swelling with Smartlipo, meaning you will begin noticing results almost immediately. The results improve as the swelling continues to dissipate, which may take up to 6 to 8 weeks; however, healing rates vary.
What Our Patients Say
"The staff and Dr. Johnson were so nice and friendly. They made it so relaxing and fun to get this done!!! I love the results… I wish I would have done it sooner!!!! Dr. Johnson is the best!! I had the Smartlipo procedure on my abs & love handles and it changed my entire waistline shape… finally I am an hourglass!!!"
— A Smartlipo® patient on RealSelf.com
Your results may vary.
Frequently Asked Questions
How safe is Smartlipo?
Years of extensive studies and use in plastic surgeons' offices around the nation have shown Smartlipo to be one of the safest and most effective methods of body contouring available. By reducing blood loss and minimizing aesthetic side effects and complications, Smartlipo is generally considered safer than traditional liposuction. Smartlipo is approved by the FDA and was the first laser to be used for liposuction.
Will I need general anesthesia?
Only a local anesthetic is necessary for patients undergoing Smartlipo treatments. Smartlipo is less invasive than traditional liposuction and requires incisions that are about the size of a pen tip, through which the laser fiber is inserted. Traditional liposuction patients are sometimes put under general anesthesia, although not in all cases.
Is liposuction painful?
Before the procedure, the targeted fat is infused with a local anesthetic so patients are numb during and after surgery. Because fat is liquified before it is removed, Smartlipo minimizes discomfort during recovery. Treated areas may be sore initially but not painful. In most cases, compression garments and prescription medication sufficiently control any discomfort.
What areas are best suited to Smartlipo treatment?
One of the many benefits of Smartlipo is its versatility. This enhanced version of traditional liposuction is ideally suited for treating delicate areas such as the neck, jawline, and face because the laser fiber cannula is precise and less invasive. But Smartlipo is also effective in removing fat from larger areas of the body, such as the abdomen, thighs, and even the upper arms. Dr. Johnson uses Smartlipo to treat adult males concerned about gynecomastia who come to our practice for male breast reduction, as well.
Should I lose weight before my Smartlipo procedure?
You should be at or near your target weight before having Smartlipo. If you are not there yet, you will optimize your results by taking the time to slim down. Dr. Johnson is happy to meet for a consultation to discuss the path that is right for you.
How much fat can be removed with liposuction?
It's important to remember that any type of liposuction, whether it's laser-assisted such as Smartlipo, or traditional liposuction, is not for weight reduction. Liposuction is a body contouring tool that sculpts away pockets of fat that resist exercise and good eating habits. Candidacy for the procedure and choosing the amount of fat expected to be removed is based on your physical examination at the time of your consultation. On average, patients can expect between 4 and 10 pounds of fat to be removed, although actual amounts vary.
Will my skin look deflated and loose?
Smartlipo is a laser-assisted technique. Lasers are often used in cosmetic procedures to tighten skin, and Smartlipo patients typically see the same skin-tightening benefits. Dr. Johnson uses Profound™ radiofrequency microneedling for additional skin tightening, if needed.
How much downtime is needed?
Because Smartlipo is less invasive, there is less discomfort following the procedure, along with less bleeding, swelling, and bruising than what is typically associated with more invasive liposuction techniques. Our patients generally can return to work or their normal daily activities 2 days after the Smartlipo treatment; however, everyone is different.
Is Smartlipo permanent?
Improvements from Smartlipo last indefinitely with consistent exercise and a healthy diet. Future weight gain can cause remaining fat cells to enlarge and even new fat cells to develop.
Can you still gain weight after Smartlipo?
Yes. Smartlipo removes fat cells in areas where they tend to expand the most, but it won't stop other fat cells from growing larger or the body from producing new fat cells. It's important to do your part to maintain the improvements you gain from the procedure.
Does liposuction treat cellulite?
No. Cellulite is caused by fibrous bands that pull on the skin from below and create a dimpled texture on the surface, rather than by fat. For cellulite, we offer Profound™, Cellulaze™ and SmoothShapes® treatments. Dr. Johnson sometimes uses liposuction in conjunction with our cellulite treatment options to create a comprehensive result.
If you would like to know more about Smartlipo, request your complimentary consultation online or call us at (208) 676-8346. Dr. Kevin M. Johnson and the rest of the team at Advanced Aesthetics provide leading-edge techniques for cosmetic improvement in a comfortable, supportive atmosphere. At his office in Coeur d'Alene, Idaho, he serves men and women from Spokane, Washington, as well as Montana, Oregon, and other states.
Discover ZO® Skin Health
We make it quick and easy to care for the health and beauty of your skin with ZO Skin Health's line of proven and effective skincare products. Visit our online store now!
Shop Now
1 McBean, Jason C., Katz, Bruce E., Laser Lipolysis: An Update, Journal of Clinical Aesthetic Dermatology: 2011; 4(7): 25-34. http://www.ncbi.nlm.nih.gov/pmc/articles/PMC3140909/
Back to Top