Advanced Aesthetics:
Kevin Johnson, MD, FACS
608 Northwest Boulevard #301
Coeur d'Alene, ID 83814
Phone: (208) 676-8346
Monday–Friday 8 a.m.–6 p.m.

Nonsurgical Eyelid Lift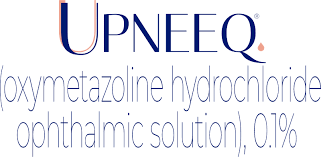 If you are bothered by saggy eyelids, we can help! At Advanced Aesthetics in Coeur d'Alene, we are excited to offer UPNEEQ®, a unique nonsurgical treatment for drooping eyelids. UPNEEQ is the only FDA-approved prescription eye drop designed to lift your upper eyelids and help open your eyes. Safe for men and women, this unique treatment can help lift your eyelids to improve impaired vision and improve your appearance.
Candidates for UPNEEQ
Whether you were born with saggy eyelids or if they have changed over the years as you've aged, UPNEEQ is an appropriate treatment for adults of all ages to provide a nonsurgical eyelid lift.
UPNEEQ can help improve your appearance by lifting your upper eyelids to help you look more awake, create greater symmetry between your eyes, and open up your eyes to make you look more youthful and attractive. UPNEEQ prescription eye drops also work to improve eye function for people whose vision is being affected by drooping eyelids when driving, reading, or using the computer. By opening up your eyes, you can open up a world of possibilities.
During your UPNEEQ consultation, Dr. Johnson will assess the following to determine if you are a candidate for these nonsurgical eyelid lift eyedrops:
Overall good physical health
Have mild to moderate ptosis of the upper eyelids
Want a nonsurgical alternative to improve the appearance of their upper eyelids
Benefits
UPNEEQ is a unique treatment that works to quickly lift the upper eyelids. All it takes is 1 drop per eye each day to improve the appearance of your eyelids. Most patients in clinical trials experienced a lift in their eyelids in as little as 2 hours.
Thanks to this fast-acting eye drop, most patients experience an improvement in the sagging of their eyelids.
Who Is a Candidate for UPNEEQ?
Any adult who has experienced saggy eyelids, either from aging or genetics, is a candidate for UPNEEQ nonsurgical eyelid lift eye drops. We encourage you to schedule an appointment with Advanced Aesthetics to learn if UPNEEQ is right for you.
UPNEEQ eye drops are safe for most patients, including contact lens wearers. Make sure you remove your contact lenses before administering UPNEEQ eye drops. It is recommended that you wait at least 15 minutes after applying UPNEEQ eye drops before putting contact lenses into your eyes.
UPNEEQ is a type of medication that may affect blood pressure, so if you have heart disease, uncontrolled high or low blood pressure, or have circulation issues, Dr. Johnson recommends contacting your doctor if your symptoms get worse when using UPNEEQ.
How to Apply UPNEEQ Eye Drops
UPNEEQ is a prescription eye drop that you administer at home once daily. UPNEEQ drops come in a single-use vial with enough solution to administer one drop of UPNEEQ per eye. UPNEEQ works over the course of 2 hours to lift the upper eyelid and improve the appearance of saggy eyelids.
There is no downtime required, but it is recommended that contact lens wearers wait 15 minutes after applying UPNEEQ to put their contact lenses in.
If you are interested in learning more about a nonsurgical eyelid lift with UPNEEQ eye drops, request your consultation online, or call Advanced Aesthetics in Coeur d'Alene at (208) 676-8346.