Advanced Aesthetics:
Kevin Johnson, MD, FACS
608 Northwest Boulevard #301
Coeur d'Alene, ID 83814
Phone: (208) 676-8346
Monday–Friday 8 a.m.–6 p.m.

Advanced Aesthetics Training Institute
Building and sustaining a quality medical or surgical practice has never been simple. For physicians seeking to add medical aesthetics to an existing practice or establish a new aesthetic clinic from the ground up, the opportunities have never been greater. Advanced Aesthetics offers a unique opportunity to create a growing, successful practice with our Coeur d' Alene, Idaho cosmetic surgery and skin rejuvenation training facility.
At Advanced Aesthetics Training Institute, we provide our client physicians and their staff members with all the tools they need to provide an excellent patient experience, create great results, and promote a growing business that patients will seek out and return to again and again. Advanced Aesthetics Training Institute is a nationally recognized training center for skin treatments, vein treatments, and cosmetic surgery. Spokane and Idaho physicians can learn laser assisted liposuction using the awake tumescent technique, laser skin rejuvenation, Dysport® and dermal fillers, and aesthetic practice growth. Physicians are able to earn up to 22 category 1 CME credits and training staff are welcome as we emphasize a team approach.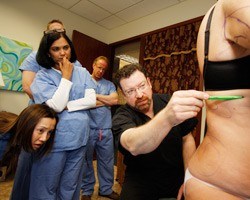 Our mission is to provide you with an intimate, complete, individualized, hands-on training experience. Our success is based upon our ability to deliver quality training and instruction to our client physicians and their staffs. Under the direction of Kevin M. Johnson MD, FACS, a cosmetic surgeon serving Spokane and Coeur d' Alene, Advanced Aesthetics is one of the busiest Smartlipo™ clinics in the Northwest. It is a designated national Smartlipo Training Center and CME Training Institution for physicians, nurses, and other health care professionals.
Advanced Aesthetics
Advanced Aesthetics is a premier aesthetic center providing state-of-the-art treatments. We offer the most advanced cosmetic medical treatments available including, SmartSkin CO2™ Skin Resurfacing, Dysport, dermal fillers, Liquid Face Lift, skin rejuvenation, varicose vein removal, Smartlipo™ Triplex, CoolSculpting® by ZELTIQ®, and a variety of other laser procedures.
What our clients say
"Dear Dr. Johnson, just a note to say thank you very much for sharing your knowledge and skills with me at the recent course. I did my first two cases last week and all went well. One patient was so happy with result she broke into tears!"
About Dr. Johnson
Dr. Kevin Johnson has trained over 500 physicians and nurses from around the country. Many have extended their visits to gain additional medical and business insights. He has also performed over 5,000 cosmetic procedures at his office in Coeur d'Alene, Idaho. Dr. Johnson is proud to be a physician provider in the USA for Dysport treatments. He is also a clinical speaker and trainer for Cynosure® a leading cosmetic laser company.
Training Courses Available
Basic liposuction / Smartlipo / Laser Assisted Liposuction (CME credits: 22hrs)
Dermal Filler / Liquid Face Lift / Dysport / Beginner & Advanced Injectable Techniques (CME credits: 8hrs)
Cosmetic Laser Resurfacing
EVLT / Sclerotherapy / Spider Veins
Sales / Consulting / Marketing & Advertising
Costs
Idaho Liposuction Courses
Physician – $4995 / Support staff – $1000
Injectable Courses
Physician – $2995 / Support staff – $1000
Registration
Register at www.cosmeticphysicians.org or contact us at (208) 676-8346.