Advanced Aesthetics:
Kevin Johnson, MD, FACS
608 Northwest Boulevard #301
Coeur d'Alene, ID 83814
Phone: (208) 676-8346
Monday–Friday 8 a.m.–6 p.m.

Injectable Fillers
At Advanced Aesthetics, some of our most popular skin rejuvenation treatments involve injectables. Injectables are substances, both natural and synthetic, that can be injected beneath the skin in order to reduce the visible signs of aging. At Advanced Aesthetics, we offer several injectable fillers for various skin care needs for patients in Spokane and Coeur d'Alene.
If you would like to find out more about injectable fillers, request your complimentary consultation online or call us at (208) 676-8346. Dr. Kevin M. Johnson and the rest of the team at Advanced Aesthetics provide leading-edge techniques for cosmetic improvement in a comfortable, supportive atmosphere. In our offices, we provide injectable dermal fillers to people from Moses Lake, Kennewick, and Missoula. We're trusted throughout the region for exceptional care.
How Much Do Injectable Dermal Fillers Cost in Coeur d'Alene ?
Filler treatments start at $600 per syringe at our Coeur d'Alene practice. Your actual cost will depend on the filler used, the number of syringes needed, and areas treated. You will be given a personalized quote as part of your consultation.
Can Dermal Fillers Be Combined With BOTOX/Dysport?
In addition to dermal fillers, we offer the popular injectable BOTOX® Cosmetic for effective reduction of dynamic wrinkles, which are caused by the contractions of facial musclse. These treatments can be combined, which is called a Liquid Facelift, to provide more complete facial rejuvenation. In some cases, injectable fillers may be performed in addition to other skin services, such as PrecisionTx skin tightening, for a complete, long-lasting result.
Comfort on Your Terms
If you're feeling anxious about your injections, we offer self-administered nitrous oxide with Pro-Nox™. Sometimes also called "laughing gas," Nitrous oxide is a safe, odorless gas that temporarily reduces feelings of anxiety and stress. Learn more during your consultation.
Where Can Dermal Fillers Be Used?
Dermal fillers provide appealing and youthful-looking volume to several areas of the face, plumping the lips, enhancing the cheeks, softening deep lines and folds around the mouth, and more. Take a look below to see the facial areas that benefit most from dermal fillers and read about some of Advanced Aesthetics' most popular dermal fillers.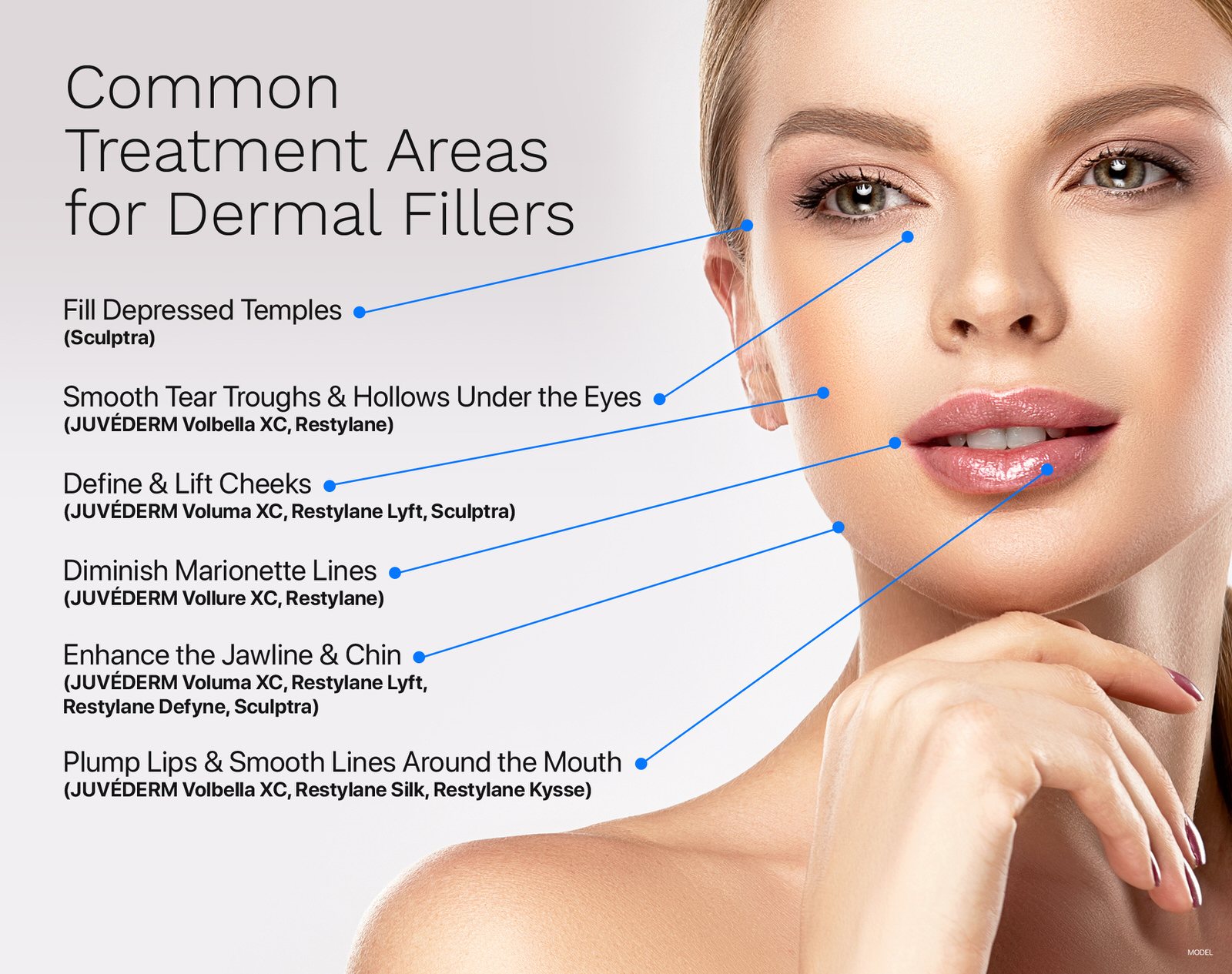 Facial Contouring With Fillers
Even though fillers are often thought of as anti-aging treatments, many younger patients get fillers to create attractive contours that are ready for social media or video conference calls. In addition, fillers can correct asymmetrical features. Some of the most popular treatment areas for facial contouring include:
Jawline: Fillers can create a more well-defined jawline, which is often associated with a more attractive face for both men and women. Increasing the volume enhances the jawline's existing structure and creates more separation between the jaw, neck, and other facial structures.
Cheeks: High cheekbones are a desirable trait that you often see in high-fashion models.
Nose: Fillers offer a nonsurgical alternative to rhinoplasty. Sometimes called "liquid rhinoplasty," it is a great option for patients with isolated nose concerns, such as a dorsal hump or minor asymmetry.
Lips: Lip augmentation with fillers is one of the most popular treatments we perform.
Chin: Having a "strong," prominent chin that is in harmony with the rest of your facial features is highly desirable for both men and women. Chin augmentation with fillers is an alternative to chin implants.
Tear troughs: Dark circles or bags under the eyes can be an inherited trait. Strategically injected fillers can create a rested look by adding volume.
JUVÉDERM®
One of the first noticeable signs of aging is the formation of wrinkles, folds, and fine lines on the face. As we age, our skin becomes less elastic. With FDA-approved JUVÉDERM injectable gel, Spokane and Coeur d'Alene patients no longer have to live with fine lines and wrinkles. JUVÉDERM is a "next-generation" dermal filler. It is made of hyaluronic acid, a substance that naturally occurs within the skin that works to increase volume and maximize hydration.
JUVÉDERM VOLUMA® XC
Although they all rely on hyaluronic acid, FDA-approved JUVÉDERM VOLUMA XC is different from other JUVÉDERM fillers because it's formulated just for the cheeks. Over time, the volume in our cheeks can diminish, leaving behind a sagging or hollow look that can make us look older. VOLUMA XC replenishes this volume, creating a fuller, more youthful-looking profile and adding a subtle lift. VOLUMA XC is administered through several quick injections just like other fillers, and its results are immediately visible. Best of all, VOLUMA XC is one of the longest lasting hyaluronic acid fillers, with results that may be enjoyed for as long as 2 years, although individual experiences vary.
JUVÉDERM VOLBELLA® XC
Another hyaluronic acid gel filler, JUVÉDERM VOLBELLA XC was created especially for the lips and small lines around them. With a lower concentration of active ingredient, VOLBELLA provides conservative, natural-looking results that don't appear overdone. In addition to adding volume to the lips themselves for a perfect pout, VOLBELLA gently smooths away fine lines around the mouth. VOLBELLA is administered with the aid of a light topical anesthetic, and its results can last for 1 year or more.
JUVÉDERM VOLLURE® XC
Deep lines and creases, such as the nasolabial folds, can be tricky to treat without surgical intervention. JUVÉDERM VOLLURE XC is a firmer formulation of classic JUVÉDERM, making it especially appropriate for deep nasolabial folds. Created with proprietary crosslinking technology, VOLLURE is FDA-approved to correct deep wrinkles for up to 18 months, from just a single treatment.
Sculptra® Aesthetic
Sculptra Aesthetic is a unique dermal filler that works in 2 distinct ways. Using a proven ingredient called poly-L-lactic acid, Sculptra both fills in areas of wrinkles or lost volume and encourages the growth of your body's own collagen for a long-lasting result that looks and feels extremely natural. Unlike other dermal fillers, the results of Sculptra Aesthetic take some time to develop. After a series of injections – typically 3, spaced several weeks apart – Sculptra patients notice an improvement in the quality and condition of their skin. Their wrinkles and folds are reduced, and their faces look fresh and reinvigorated. Sculptra may also be used to fill in hollow or depressed temples or improve the firmness of skin along the jawline. The results of a round of Sculptra treatments can last for several years.
Restylane® & Restylane® Silk
Restylane and Restylane Silk are biodegradable gel fillers that, like JUVÉDERM, use hyaluronic acid to add volume and fullness to the skin. They are injected beneath the skin in tiny amounts using a very fine needle, and join together with the body's hyaluronic acid to cause an increase in volume. The fillers maintain their shape using the body's own moisture. Once injected, the hyaluronic acid attaches itself to water molecules, and as the acid breaks down, every molecule binds to water. Over time, the same amount of volume can be retained using less hyaluronic acid. Through these injections, Restylane smoothes wrinkles and forms facial contours, and can result in a more youthful appearance. Restylane Silk has slightly smaller molecules and is designed especially for lip enhancement, used for plumping up lips and filling in lines around the mouth.
Restylane Lyft®
Restylane Lyft is used to correct moderate to severe facial wrinkles and folds, and restore volume and fullness to the skin. Intended for deeper injection, Restylane Lyft adds volume for structural support and lift. Applied by injection with an ultra-fine needle, Restylane Lyft is a natural way to smooth away deep facial lines.
Lip Fillers
Which fillers are good for this treatment?
The following fillers are specifically formulated for lip augmentation and enhancement:
JUVÉDERM VOLBELLA
Restylane Silk
Restylane Kysse
During your consultation, your injector will help you choose the filler that is best suited to your unique needs and the enhancement you'd like to attain.
How long do lip fillers last?
The results of lip injections can last up to 1 year.
Are lip fillers safe?
All of the fillers we use are FDA approved and proven safe. We carefully screen each patient before treatment for the highest level of safety.
Are there any side effects?
Side effects from lip filler injections are usually temporary and include swelling, tenderness, bruising, itching, and redness.
How long before a patient is fully recovered from the treatment?
Swelling and bruising are normal after lip injections. The lips are very sensitive, so don't have the treatment right before a special event. Swelling significantly dissipates with the first few days and is gone in about 2 weeks for the majority of patients. Applying cold packs as directed and keeping the head elevated at all times for the first day or two can minimize these side effects.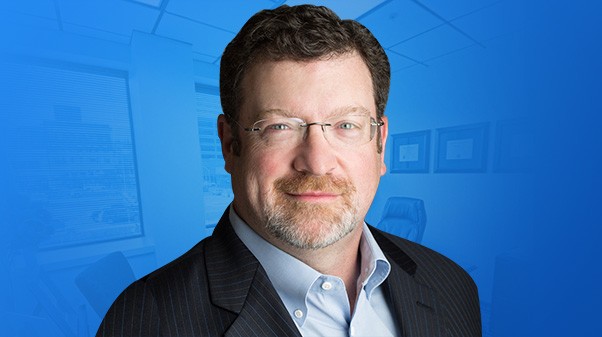 Dr. Kevin Johnson
Welcome to Advanced Aesthetics. Throughout my years serving the body contouring and facial rejuvenation needs of people in Spokane and Coeur d'Alene, I've learned a lot—including how to meet my patients where they are. If you're like most of our guests, you're busy, you want to address a specific concern, but you might not know where to begin. We're ready to help.
Meet Dr. Kevin Johnson
Discover ZO® Skin Health
We make it quick and easy to care for the health and beauty of your skin with ZO Skin Health's line of proven and effective skincare products. Visit our online store now!
Shop Now
Back to Top