Advanced Aesthetics:
Kevin Johnson, MD, FACS
608 Northwest Boulevard #301
Coeur d'Alene, ID 83814
Phone: (208) 676-8346
Monday–Friday 8 a.m.–6 p.m.

Fly or Drive to Our Practice
With idyllic scenery, abundant activities and a spectacular setting near one of America's most beautiful lakes, it is no wonder that people interested in skin rejuvenation treatments and plastic surgery from all over Idaho, Montana, Alaska, and the Northwest travel to Advanced Aesthetics. When you visit our cosmetic surgery practice in Coeur d'Alene, we know without a doubt that you'll enjoy your stay.
For visitor information and the latest activities, events and places of interest in Coeur d'Alene, Spokane and surrounding areas, please visit www.coeurdalene.org or www.spokanecity.org.
Top Procedures
Dr. Johnson draws women and men from out of the area for a wide range of cosmetic procedures. Popular options include:
Hotel Accommodations
Coeur d'Alene Resort
Reservations: 800-688-5253
www.CDAresort.com
At the Coeur d'Alene Resort, they have mastered the art of relaxation. With luxurious accommodations, rejuvenating spa treatments, sumptuous cuisine and breathtaking holiday displays, this 4-star resort continues to be the destination of choice for discerning travelers worldwide. Discounted corporate rates are available through Advanced Aesthetics. Transportation to and from Spokane International Airport and the world famous CDA Golf Course is easy and convenient.
Directions to Advanced Aesthetics: Go north on S. 2nd Street toward E. Sherman Ave. Turn left onto E. Sherman Ave. (It will turn into Northwest Blvd.) Advanced Aesthetics will be on your right less than a mile from the resort. Estimated drive time is 5 minutes.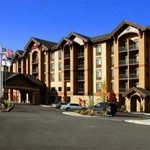 Hampton Inn
Reservations: 208-769-7900
hamptoninn3.hilton.com
Breathtaking mountains, beautiful lakes and a reverence for the great outdoors is what you find when you visit the Hampton Inn & Suites® Coeur d'Alene. Use the lake as your playground while canoeing, kayaking or fishing. Work on your snowboarding skills at one of our ski resorts. Get an adrenaline rush on the rides at Silverwood amusement park. Or, simply enjoy a picnic in a serene, scenic atmosphere. All of this and more are just moments away. Discounted rates are available when you mention you're with Advanced Aesthetics.
Directions to Advanced Aesthetics: Go east on W. Riverstone Drive toward N. Old Mill Loop. Turn left onto N. Lakewood Drive. Turn right onto Northwest Blvd. Advanced Aesthetics will be on your left less than 1.5 miles from the hotel.
Flying In
Spokane International Airport (GEG) is the recommended airport if you're flying to Spokane or Coeur d'Alene.
Directions from airport to Advanced Aesthetics: Follow signs to I-90 toward Spokane (crossing into Idaho).Take Northwest Blvd. EXIT 11 toward City Center. Turn slightly right onto Northwest Blvd. Our office at 608 Northwest Blvd., Suite 301, will be 1.5 miles down on your left. Advanced Aesthetics is in the Spokesman Review building on the 3rd floor. Parking is at the back of the building.
Estimated Time: 42 minutes
Estimated Distance: 38.42 miles
Local Interests
Surrounded by beautiful scenery, many Coeur d'Alene and Spokane visitors enjoy activities such as golfing, skiing, hiking, kayaking, boating and other outdoor pursuits. You can visit www.coeurdalene.org or www.spokanecity.org for more information about local attractions.