Hollow cheeks, thinning lips, bags under the eyes — we're all familiar with the common signs of aging that nearly everyone experiences. And while facelifts and other surgical procedures are solutions for some people, there are nonsurgical treatments that can be just as effective for many people. Some of the most popular options are dermal fillers such as Restylane® at my Coeur d'Alene practice near Spokane. And while I know how exciting the results of these treatments can be, many of my first-time patients have mentioned feeling hesitant to try them simply because they didn't know enough about them. To help educate and inform my patients, I'm sharing answers to some of the most common questions I hear during consultations for dermal filler treatments.
How long do dermal fillers last?
The results of dermal fillers can last anywhere from 6 months to 2 years, depending on the area treated, the amount used, and the way your body interacts with the substance. With increased use, many patients find they need less frequent treatments. This is because the presence of the filler increases the production of collagen in the treated areas, so the body begins to produce added volume naturally.
What can dermal fillers really fix?
Dermal fillers are used in cosmetic treatments for a few reasons. Most notably, they can be used to fill deep facial creases and expression lines that are caused by wrinkles and repeated facial movements. Fillers are especially useful for camouflaging jowls and sharpening the jawline. Fillers are popular options for restoring volume in areas that have lost it over time, including the cheeks and under-eye areas. Younger patients often rely on fillers to add volume to their lips for a voluptuous look. In the before-and-after photos below, we used fillers to smooth out the patient's under-eye bags. This gives her a more refreshed, rejuvenated look overall.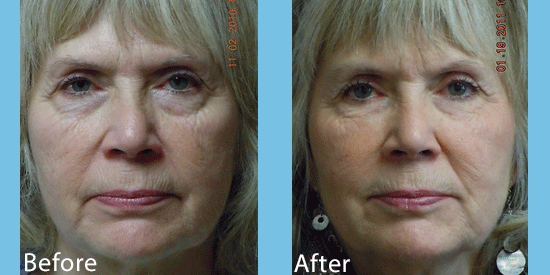 Fillers can also be combined with other treatments, likeDysport® (a combination known as a liquid face lift) and skin resurfacing for even more impressive results.
How much do dermal fillers cost?
At our practice, we price dermal fillers by the syringe. Depending on the area being treated, we may use anywhere between 1 and 4 syringes in a single treatment. For example, at my cosmetic surgery practice in Coeur d Alene, Restylane® and Restylane Silk are $500 per syringe. Restylane Lyft is $550. Each of these fillers is FDA-approved for use in different areas of the face. This means that Restylane and Restylane Silk may be used on the lips, tear troughs under the eyes, and fine lines anywhere, whereas Restylane Lyft can be used in the cheek area, the temples, marionette lines, and along the jaw in the prejowl sulcus. During a consultation, we'll be able to tell you which areas can benefit from which fillers, as well as how many syringes we'll need to use.
How are dermal fillers administered?
Dermal fillers are exclusively injectable, so they're administered through a tiny needle placed just under the skin. Most patients say they only feel a small pinch with each injection.
What qualifies a person to administer fillers?
The qualifications required to administer dermal fillers vary by state. Here at our practice, I am able to administer them, as is my aesthetic nurse, Brittany. Brittany is also a medical aesthetician, cosmetic laser trainer, and injection specialist. She has been expertly trained to administer these treatments and can provide patients with natural-looking results safely and efficiently. We're proud of our extensive experience with injectables, and we're one of the top 100 providers of Restylane Lyft in the nation!
What are dermal fillers made of?
Most dermal fillers use a gel formulation of an active ingredient called hyaluronic acid. This acid occurs naturally in our bodies and works to hydrate our connective tissues, joints, and eyes.
What happens after a treatment?
After your injections are over, you may see some minor swelling and tenderness in the treated area, though this will only last for a day or 2. You should avoid exercising, performing heavy lifting, or applying pressure to the treated areas immediately after your treatment. Besides those minor restrictions, you can return to your normal daily routine the next day.
If you've been considering dermal fillers but aren't quite sure if they're the right treatment for you, I encourage you to take a peek at our treatment guide. This tool helps you determine the treatments that may best fit your needs, based on the cosmetic concerns you have. Or, request a complimentary consultation so we can discuss your concerns together and determine if you're a candidate for filler treatments.