Like any other cosmetic surgery procedure, laser liposuction is associated with many myths and misconceptions. My laser lipo patients often ask me questions that reflect a lot of misinformation circulating out there. This often comes from hearsay handed down via the "I know someone who knows someone who had it" chain and from not-altogether-accurate portrayals of cosmetic surgery in popular culture.
These are the questions we hear most often, and answers that should help you make a more informed decision about laser liposuction.
Can liposuction help you lose weight?
Not really. However, it's easy to see why someone may think that it can; we are, after all, removing fat from the body. But this idea is really rooted in a larger narrative of seeing liposuction as "the easy way" of getting down to your ideal weight.
To put it plainly: There is no easy way out.  Although liposuction can be performed on patients who are overweight as a nudge in the right direction, we prefer to see a willingness and a plan to lose weight and maintain their results after the procedure. However, a more ideal patient for liposuction is already at (or very near) their ideal weight—and in most cases, they've gotten there through a diligent fitness regimen and a healthy diet.
Rather than thinking of liposuction to reduce your weight, it's more accurate to think of it as sculpting your body in a way you're unable to on your own. Liposuction is meant for those stubborn pockets of fat that diet and exercise alone can't address, not for removing any and all fat.
Will I have loose, sagging skin after liposuction?
The misconception that you'll have sagging skin after lipo is closely tied to the idea of liposuction as a weight loss procedure. The logic goes something like this: Because you're removing so much fat, the skin left behind will become saggy.
Here's what actually happens:
In a liposuction procedure, the amount of fat removed is noticeable, but it's not enough to overwhelm your skin's ability to retract around your new body contours. Patients with good skin elasticity prior to liposuction retain that elasticity afterward.
Smartlipo®, my preferred liposuction method, has an added benefit. The laser technology used in a Smartlipo procedure actually triggers collagen production in the skin cells after the fat is removed. Those skin cells then naturally tighten, producing smooth contours like those in the example above.
Can liposuction treat cellulite?
Liposuction isn't a cellulite treatment, but it can provide some improvements in the appearance of dimpled skin. What's important here is to understand what actually causes cellulite. Contrary to popular belief, although it's related to fat, it's not just the fat that causes the lumpy appearance. Bands of connective tissue pull down on the skin from underneath, and this can cause the fat cells pushing up against that tissue to form the bumps we know as cellulite. Our noninvasive cellulite treatments typically focus on the more superficial fat and skin layers, as opposed to the deeper areas of fat removed via liposuction. The use of the laser, not the suctioning, is really the reason cellulite improves during laser-assisted liposuction.
Because we are removing pockets of fat through Smartlipo, it can reduce the appearance of cellulite as an ancillary benefit, as in this case: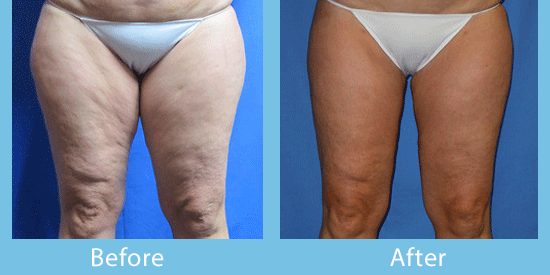 Is liposuction only for large areas of the body?
While liposuction is great for larger areas, it works extremely well on small areas as well. Smartlipo can certainly be effective in the most common liposuction treatment areas (e.g., the midsection, the flanks or "love handles," the thighs), but its especially narrow cannula (only 1 millimeter wide) makes it adept at addressing smaller areas with a minimal incision, too.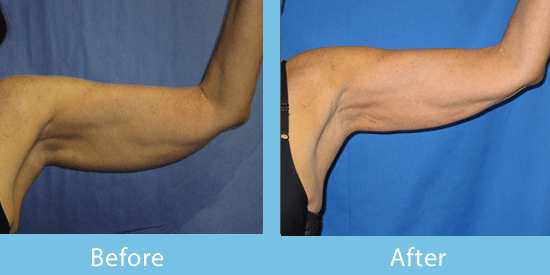 You can see an example with this past patient, who wanted targeted liposuction on the fat under her arms. Smartlipo is also a good choice for chin and neck fat, and you can learn about and see our real patient chin and neck lipo results in our related blog post.
How much does laser liposuction cost?
The cost for Smartlipo starts at $3,000 for the neck and jawline alone and $5,000 for larger body areas. The cost per area decreases with each additional body area. When you come in for your personal consultation, we will provide a customized quote.
In general, liposuction is a very versatile tool with multiple applications in cosmetic surgery, and the science behind Smartlipo provides many benefits. If you have questions about liposuction, or any other cosmetic procedure, request a consultation or call (208) 676-8346 to schedule your appointment.