Liposuction season is in full swing. Late winter and spring tend to be the busiest seasons for our practice during which we do a LOT of liposuction. It's my favorite procedure to do, and worldwide is one of the most popular cosmetic and plastic surgery procedures performed year after year. Many new body sculpting technologies have recently been developed, but not one of them compares to the results that can be achieved with Smartlipo. Here, I'll share some insights with you about the process of getting a Smartlipo procedure from start to finish. Most of our patients find us online, and they eventually end up looking at our website. We have spent years developing information and photos to help explain our menu of services. So, we love it when prospective patients take time to explore the website. It answers a lot of questions, but also helps prepare questions for a potential consultation.
The most visited area on the website is the photo gallery, and we encourage you to peruse the photos of previous patients. All of these people are patients of Advanced Aesthetics who specifically gave permission for us to post their photos on our website. And they were happy to do it! After all, most of them decided to call and make an appointment for Smartlipo at either our Spokane or Coeur d'Alene office, based on these photos in the gallery, so they were more than happy to share their new success with others.
The photos on the site provide you with two things:
The quality of the Smartlipo work that we do
An idea of your final result after getting Smartlipo
Obviously, not all patients come in looking the same, so we try to provide before-and-after photos of patients of all shapes, ages, and sizes. The goal, then, is to find a "before" photo of a patient who looks most like you right now. The "after" photo is an example of what you may look like after the body sculpting cosmetic surgery.
The Call
It takes a lot of courage to decide to have cosmetic surgery. At our Spokane and Coeur d'Alene locations, we believe that educating our patients is extremely important, and we take pride in our ability to help our patients through the process. So, once someone decides to possibly proceed with Smartlipo, we ask that they contact us for a consultation appointment. There are several ways to contact us, many of which are on our website. If you need a little more information, then feel free to call and talk with Lezlee or Amy on the phone. They are happy to answer most of your questions, but consultations have to be in person to make the best decisions. Ultimately, it is important to have a face-to-face consultation to discuss Smartlipo, at which time all of your questions will be answered.
The Consultation
A new consultation appointment typically takes 45 minutes to an hour. The consultation is free. The goal of the cosmetic consultation is education and determining if Smartlipo is the best procedure for you. We believe that prospective patients should not feel pressured to pay for an operation to offset the cost of a consultation appointment. There is no obligation associated with this appointment, since not every patient is a candidate for cosmetic surgery. Our Smartlipo consultant will sit down and discuss your cosmetic concerns and goals, usually while you drink a cup of coffee or tea. She will also introduce you to the practice's menu of services. Many patients take advantage of learning about several cosmetic procedures during their Smartlipo consult.
I also personally meet every Smartlipo patient. We then discuss medical, cosmetic, and surgical history. We again discuss your cosmetic concerns and goals with Smartlipo. An examination is performed to determine the location and type of fat, skin quality, scars, stretch marks, and expectations. We have a discussion about the procedure, the risks, expected recovery, and plans for future follow-up appointments after cosmetic surgery. I leave lots of time for questions and hopefully leave you with a complete understanding of the overall procedure. The consultant will then prepare a custom quote of the cost of the procedure and discuss our payment policies and financing options. You may even decide to look at the schedule for available dates. It's a lot of ground to cover, but we think it's very important to have educated and well-informed patients prior to making this important decision.
Preoperative Instructions
Once a patient chooses to have Smartlipo at Advanced Aesthetics, we provide them with detailed written instructions and a chance to ask more questions. We ask them to avoid over-the-counter blood thinning medications such as aspirin, Excedrin®, Ibuprofen, Vitamin E, and fish oil. A custom-made pre-measured compression garment will need to be ordered, and we walk you through that process. Patients are instructed to shower with HIBICLENS® soap the evening before and morning of surgery. We prescribe preoperative antibiotics and sedative medications, all in pill form. The patient is encouraged to eat a good meal prior to taking the medications in order to avoid nausea and vomiting.
The Day of Surgery
We ask our patients to arrive 30-60 minutes prior to their planned surgery time. One hour before the scheduled Smartlipo procedure starts, preoperative medications should be taken in the presence of a responsible adult who will also monitor the patient for 24 hours. Preoperative photos, measurements, and weight are taken. The patient is taken to the operating suite where their skin is prepped with an antiseptic solution, and they are marked in a standing position with a marking pen for operative planning. The patient is then placed on a heated bed (our patients love this) and the procedure begins. By this time, the preoperative medications have taken effect and the patient is pleasantly relaxed. Local anesthetic is used to numb the incision site, and a small incision is created at several points. A very thin cannula (metal tube) is passed under the skin in order to infuse the area with tumescent anesthetic. This combination of lidocaine, epinephrine, sodium bicarbonate, and saline is used as an extremely effective numbing agent. The areas are filled with this solution and they become numb. There is mild discomfort while the numbing solution is placed, but once the area is infiltrated, there should be no further pain. If a patient does experience any unlikely pain during the remainder of the procedure, then more solution is placed and the pain quickly resolves.
The "smart" part of Smartlipo is the use of a laser. This adds time to the procedure, but it is well worth it. The laser accomplishes 3 added benefits:
It melts fat before removal, allowing for a smoother result.
It coagulates blood vessels to prevent postop bruising, swelling, and pain.
It TIGHTENS SKIN!
We are able to achieve results with Smartlipo that have not been thought possible with traditional liposuction, simply by adding laser energy to tighten skin. The last step is to perform liposuction with microcannulas designed to give a smoother and more even result. We then have the patient stand to evaluate the result. We are able to see more of a true result when the patient stands, as opposed to inspecting the result while lying down on the bed. This is one of the many advantages of having an awake patient during the Smartlipo procedure. At the end of the procedure, the skin is cleansed, dressings are applied, and the compression garment is put on the patient. We then monitor the patient until he or she is ready for discharge home.
Follow-Up
We feel it is important to see our patients the next day after a Smartlipo procedure. We change the dressings and instruct them on how to take care of their incisions and how to apply the garment at home. Photos are taken as well. We then see the patients several times over the next 4 months for checkups, to monitor progress. At 1 week we perform a procedure using a device called SmoothShapes™, which performs tissue massage via suction, rollers, and laser and light energy. We feel that it improves the healing process by resolving the swelling quickly, allowing for a better overall result. We perform this at 1 week, 2 weeks and 4 weeks postop. This procedure is included in the overall cost and is not an extra charge. The final follow-up appointment is provided at 4 months postop, at which time a final set of photos and measurements is taken. You can see an example of these photos in the before-and-after images form one of our patients below.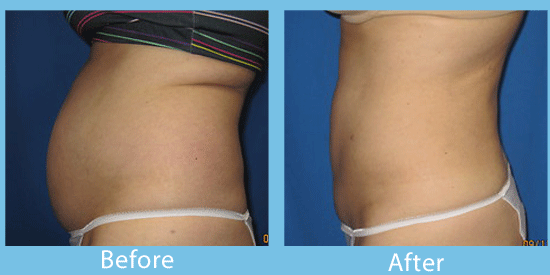 Restrictions and Returning to Work
Most patients are able to return to work 2 or 3 days after surgery. They may shower 48 hours after the procedure but may not bathe or swim for 2 weeks. Walking and normal daily activities are encouraged, but vigorous exercise should be avoided. The compression garment is to be worn day and night for 2 weeks and may be removed to wash and take showers.
What's Next?
A large number of our patients don't have Smartlipo performed on just one area. They are so pleased with the result that they request other areas be performed, too. It is not unusual for some of our patients to have Smartlipo performed on 6 body areas. We generally limit the procedure to 2 body areas per operation, and the next procedures can be performed 1 or 2 weeks later. Smartlipo is a minimally-invasive, very well-tolerated cosmetic surgery. Patients are able to return to work very quickly and are back to full exercise at 2 weeks. Noninvasive alternatives, although attractive because they avoid downtime and surgical incisions, just can't match the overall effectiveness and clearly superior results of Smartlipo.